THE THREE R'S IN ILLIOPOLIS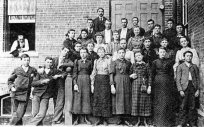 (Illiopolis Grade school, about 1893)
(Click here for larger photo and other photos with details)
The sparseness of settlement in Illiopolis Township delayed the development of schools so that it was not until 1840 that teaching was begun.
In 1845 the Hampton schoolhouse was erected near where the old Bethel Church stood. Next, a log school­house was constructed on the Blankenbaker farm near the Archie Dickerson's place. The seats were slabs taken from the sawmills and fastened together with wooden pins. The writing desks were boards nailed to the side of the schoolhouse with leather hinges and sticks for props. These were let down when the spelling bee was held.
In 1860 school was first held in the village of Illiopolis in the James Shartzer house on the northwest corner opposite the Christian Church. S. M. Pierson was the teacher. During that winter a new frame school build­ing went up where, the grade school now stands. S. P. Williams was the first teacher in that building which was used for both school and. church services for some time.
The growth of the community being such as to demand it, in 1867 a brick addition to the first school was built. In the fall of 1880 the frame portion was torn away and replaced by another brick addition. Later, still an, other wing was added to house the high school.
The first high school class completed its education in 1891. Its commencement program follows:
Illinois State Center, Illiopolis, Illinois. June 4, 1891
R. T. Spencer, Editor
The Commencement exercises held at the Christian Church last Friday of the Illiopolis High School was well performed and attended. Nine Graduates were, presented with Diplomas.
Misses Alta Bechtel (Mrs. Alta Peters)

Kate Correll (Munce, Deceased)

Maud Kendall (Deceased)

Lida Mussenden (Hardy)

Gertrude Smith

Kate Blair (Mankin)

Pearl Ishmael (Briggs)

Minnie Lucas (Middleton)

Mr. Harvey Roberts (Deceased)
The above in connection with other Illiopolis talent, presented this program:
Chorus, Knocking at the Door

Invocation--Elder J. W. Robbins

Salutatory and Oration, Education, Its Growth--Kate N. Blair

Essay, From Whence They Came--Maud Kendall

Piano Solo, General Hancock's Grand March--Della Maxwell

Oration, Danger of Sudden Riches--Kate Correll

Vocal Solo, Jennie--Dora Norred

Essay, Literary Value of the Bible--Pearl Ishmael

Duct, Fairy Queen--Bertie Ingle & Anna Boyd

Oration, Grit--Harvey Roberts

Essay, The, Great Evil--Minnie Lucas

Vocal Solo, The Old Tin Dipper on the Nail--Nellie Ishmael

Oration, Dawn of Woman's Day--Gertrude E. Smith

Piano Solo, Ivanhoe--Helen Rasar

Valedictory and Oration, Blessings and Duties--Lida Mussenden

Presentation of Diplomas-- Dr. J. W. D. Mayes

Chorus

Benediction--Rev. Robert Clark
The program was well performed and the lady graduates looked very becoming in their costumes of white. M. B. Garver gave a reception and banquet in the evening at his residence.
The school system continued to grow and progress scholastically. In 1912 Illiopolis became the only four year accredited high school between Decatur and Springfield. Tuition students came from neighboring towns for that reason. Later, they returned to their own com­munities when their high schools became accredited.
The curriculum was constantly expanded to keep up with the changing times. Courses in home economics, business education, and agriculture were added.
In the spring of 1926 the school building was destroyed by fire. A separate grade school and high school were then built at their present sites. A farm shop eventually became part of the school plant and an addition to the high school built in 1955 houses the upper elementary grades.
Illiopolis had a community high school for a number of years and then, became a community unit system in 1948.
Early teachers who are well remembered include the Rev. M. Ingles, Mr. Clarence Peters, L. C. Webb, J. B. Higginson, Mr. G. E. Clendenen, and the Misses M. E. Cantrall, Jennie Taylor, Emma Ford, Ada Smith, Edith Campbell, Ellen Scully, and Eleanor Hampton. A member of our present day community is Mr. W. P. (Pat) Sullivan, a revered and beloved educator. He served the Illiopolis schools well for thirty-five years (1911-1946).
The Illiopolis school system produced a well-known educator too. An early student was Mr. D. F. Nickols who had first attended Cantrall School. He served as Logan County superintendent of schools from 1905-1916, was for many years manager of Illinois Pupils Reading Circle, and ended his career as superintendent of Lincoln city schools. A close friend of Mr. Nickols, Eirich Williams, son of S. P. Williams, served as a teacher in China and was there during the Boxer Rebellion. In later years alumni distinguished themselves in other fields as musicians, journalists, authors, lawyers, dentists, doctors, professors, professional ball players, and one as a legislator.
During his superintendence of the schools Mr. Sullivan had a plaque listing the names of alumni who gave their lives in World War II hung on the wall of the cor­ridor. On this Honor Roll are the following: Robert W. Booker, Guy Cantrall, Newton C. Cline, Robert L. Graves, Charles J. Leonard, and Bill Rogers. A complete list of service men, who represented our town in World War 2, hangs on the wall of the Farmers' State Bank.