ILLIOPOLIS CHURCHES
(Taken from the Centennial History of Illiopolis 1956)
THE CHURCH OF THE VISITATION

After the close of the Civil War and for the next ten or twelve years, many Catholic families, mostly of Irish descent, settled on farms north of the town, along the Sangamon and Logan county lines. Mass was cele­brated for the first time in the village in the home of Dr. Bernard Stuve in the spring of 1866. Later the home of Patrick Murphy (great grandfather of Francis and Kathleen Murphy) was used.
In the autumn of 1867, under the direction of Rev. A. Vogt, rector of St. Patrick's' Church, Decatur, the first church building was completed, a small frame struc­ture, forty-two feet by twenty-four feet, on lots east of the present parsonage. The congregation was attended once a month by priests coming in their turn, from Decatur, Macon, Taylorville and Springfield. Their names are not forgotten- Rev. A. Vogt, Rev. B. Claus, Rev. R. Grant, and Rev. M. Kane. In the year 1876, Father Kane enlarged the little brown church by putting an addition to it so as to accommodate the seventy-five families form­ing the congregation.
In December 1877, Father Charles Manuel was assigned to Illiopolis and remained here until his death in 1901. While he was pastor, the congregation was divided, a new parish was formed, and in 1890, a new church was erected at Niantic. Father Manuel also organized congregations and built churches at Buffalo and Riverton. He also built a two story structure, adjoining the church in Illiopolis, and secured additional lots to the west; here, in 1895, the present church was begun and completed, and was dedicated on Whit Sunday 1896. Rev­erend W. A. Pachlhoffer, newly ordained, assisted Father Manuel in the last months of his illness, and then remained as pastor for another year.
In 1902, Reverend J. C. Daw took charge of the Illiop­olis and Niantic congregations and remained until 1919 when he was transferred to Vandalia. During his pastorate, the present rectory was built, and the old church and parsonage were torn down.
On the first day of May 1919, the Reverend Thomas P. McGrath succeeded Father Daw. Many church improvements were made during his term as pastor. While serving the parishes here and at Niantic, Father McGrath celebrated his silver, golden, and sixtieth anniversaries of his ordination to the Catholic priesthood, and also his elevation to the rank of Monsignor. He died February 3, 1956, and his body lay in state in the church, which he had served for thirty-seven years.
Two of the former assistant pastors of the Church are now serving in the armed forces of this country, Father James Sullivan and Father John Campbell. An, other former assistant, Father John McGrath, who is Diocesan director of the council of Catholic Women and also of the Catholic Youth Organization, is the present pastor.
ILLIOPOLIS METHODIST CHURCH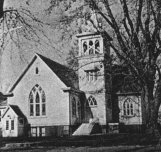 Methodism in Illiopolis township had its beginning as a Methodist Episcopal Society which met in the home of William Bridges in the year 1832, with Rev. Pitner as its first pioneer minister.
The first Methodist Church edifice was not erected until 1865. The cost was $4,000. The trustees at that time were: Miles H. Wilmot, Henry H. Lee, James Lee, James Shartzer, Amos C. Derry, John W. Constant, John C. Morgan, James A. Morgan and Jeremiah Maxwell.
Illiopolis charge was formed at the Illinois Conference in Springfield, September 1875. This charge consisted of two appointments, Illiopolis and Niantic. Rev. J. Mont­gomery was pastor and W. T. Prentise, Presiding Elder. Those present from Illiopolis at the first Quarterly Conference in 1875 were: John W. Constant, James Lee and George W. Constant as stewards, D. M. Hurt, C. W. Morgan, Hugh Sutherland and James A. Morgan as lead­ers. September 1, 1878, the union services with Niantic discontinued.
In 1900 the building of a new church edifice was started and on April 21, 1901, it was dedicated. The cost was $8,000. Rev. T. D. Weems, a former pastor, super, intended the building and took charge of the Dedicatory Service. Rev. S. W. Beggs became the first pastor. The first wedding in the new church was that of Miss Altha Constant and Mr. Lee Cline, and the first funeral service was for Mrs. D. M. Hurt.
September 23, 1951, its Fiftieth Anniversary was celebrated while Rev. H. F. Higgins was the pastor.
Down through the years, many have been the pas­tors and laymen who have given good evidence of their stewardship. The present pastor is Rev. William Thornton.
"Our Heavenly Father, we thank Thee for those things that money cannot buy, the wealth that made the saints of our childhood in their cotton clothes and little cabins, so rich and so beautiful, that we cannot forget them and would not if we could. We pray that we may be like them. In Jesus name. Amen."
ILLIOPOLIS CHRISTIAN CHURCH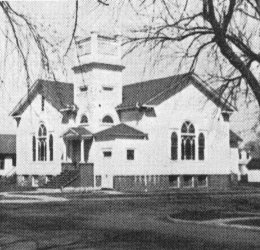 This church was organized on April 22, 1866, by Rev. C. F. Short of Mechanicsburg with the following charter members: A. C. Ford, Rebecca Ford, Mary C. Ruby, Martha Skeen, John McGuffin, Martha McGuffin, Sarah L. Dake, Archibald Boyd, W. F. Garvey, Elizabeth Garvey, Thomas F. Bourland, Martha Bourland, W. N. Streeter, F. M. Green, W. P. Roberts, and Nancy Roberts. These sixteen members agreed to the following pledge:
"We whose names are herein written do hereby mutually agree to live together as members of the Christian Church of Christ, desiring to be known as such, acknowledging no other name or names than such as are authorized by the Holy Spirit.
This we do that we may observe the ordinances of the Lord's House, assist each other in His service, extend the saving power of the gospel to others and further the interests of the Redeemer's Kingdom, praying that God may own and bless this work, done in His name to whom be honor, praise, and glory both now and forever more. Amen."
Illiopolis, Illinois
Sangamon County
April 22, 1866 W. N. Streeter, Clerk
During the following year fifty-four names were added to the role and services were held first in the Methodist Church, then for a time in the Grade School Building.
In the spring of 1868 a building was begun and by August was completed when a formal dedication was held with Rev. L. G. Roberts presiding. The church had no regular full time pastor until 1874 when G. M. Goode was engaged to preach. But the membership grew steadily; the record for the years between 1866 and 1884 shows there had been 790 members. Many of these additions had been made during protracted meetings.
In 1909 work of remodeling the old church building was begun. The improvements included a new wing on the east and one on the south, a new vestibule, a belfry, and a new floor, elevated, with a basement under all. Beautiful stained windows were set in as family memorials. On the building committee were, the Pastor, Robert Sickles, E. M. Williams, chairman, J. S. Ford, H. C. Rob­erts, J. R. Shepherd, Lafayette Cantrall and George E. Ford, Secretary and Treasurer.
Much of the expense of making repairs, adding new furniture and paying the pastor's salary was met by the Ways and Means Society which was organized by the ladies of the church in 1878. Their first money was made by making rag carpets.
In 1951 an electric organ was purchased with dona­tions, part given as memorials and the remainder paid from proceeds of a community sale.
Through the years the church services have been enriched by the music of a talented choir and their accompanists. By their loyal perseverance, working under good leadership, they have presented inspiring programs not only at regular services, but also for the special religious observances of the church as Easter and Christmas.
On April 22, 1956 the church celebrated their nine­tieth Anniversary with an all day program commemorating the event. Former ministers and their wives were special guests.
The present pastor is Rev. Ray Kistler.