Illiopolis Fire Protection District
Established 1956
Board of Trustees-Kenny Stewart, Rodney Mitchell and Ed Weigler
Illiopolis Fire Department/EMS


Emergency 9-1-1

428 Mary Street
Phone (217) 486-7691
Email us at ivfdems@insightbb.com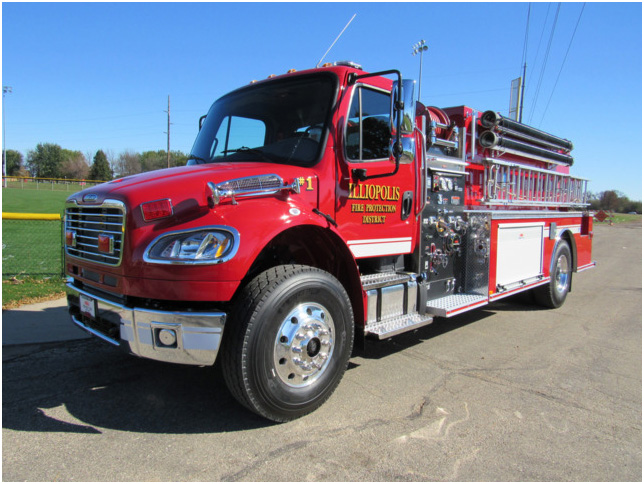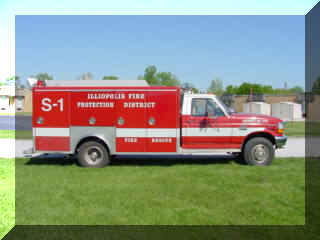 1993 Ford Super Duty 2000 American LeFrance, Freightliner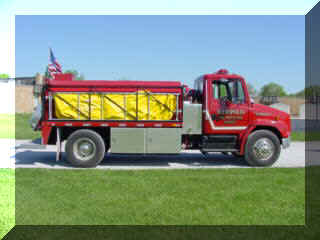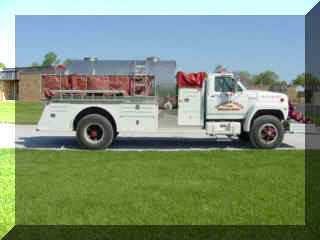 1996 Good Hope, Freightliner 1989 Ford, Towers Fire Apparatus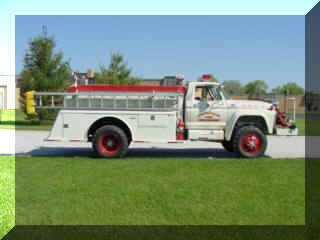 1978 Ford 4x4, Towers Fire Apparatus
---
Fire Department/EMS Meetings 2nd Tuesday of Each Month at 7:00 p.m.
Happy Anniversary Illiopolis Fire Protection District 1956-2006
Fifty Years By Bill Ingrum
Illiopolis Fire Protection District? Fifty Years Old? OK, I was asked to write an article about the Illiopolis Fire Protection District (IFPD) and it's 50 years in our Village.
So, I asked myself, "What do I know about the history of the District?" Answer: "Not so much." I've been a volunteer on the Fire Department for over 5 years with over twenty-five other members, some more, some less in years. I thought that I could interview some of the members who have been around for a while: Moose, Dennie, Randy, Brad or maybe Kenny Stewart. After all, Kenny has been a fireman in Illiopolis for forty-plus years. You're an icon Kenny!
What about the sign on the old part of the firehouse, upon which is boldly displayed: ILLIOPOLIS FIRE PROT. DIST. 428 MARY ST. *EST.1956*. Well, that was a start, but I needed just a little more info. How about I go upstairs in the firehouse and look in the "records section." Let me also tell you a little about the "records" section. Four file cabinets and sixteen drawers! Surely I could find some additional information in this vast array of important documentation. Behind drawer #1 Vehicle Specs and Warranties, drawer #2 Personnel Files (Past and Present), drawer #3 etc. I was beginning to continue to get worried that I wouldn't discover the interesting history of the District, which I so looked forward to revealing to you. Finally I was upon drawer #16.
Oh, by the way, if you've ever been in the firehouse by your lonesome self, it can give a person an eery feeling. It's the heat blower turning on or a compressor filling back up to capacity. Obviously it's not a fire engine start-up or the spray of a hose nozzle. I had always heard that a caretaker was given living quarters upstairs and was charged with maintaining the firehouse. Was there really a caretaker who lived upstairs in the firehouse? If there was, what was his name and what did he do to earn his keep? Could the noises in the firehouse be the ghosts of incident runs past? I thought not. Now wait a minute, this is not a Halloween story, but in fact is an article discussing IFPD history.
Now back to drawer #16. I opened the drawer and moved some junk aside and there lay a red notebook under all of the clutter. Brad has commented repeatedly to me that "We need to purge out some of that paperwork sometime." Anyway, I lifted the red books' cover to take a peek inside. And guess what? ...lots of receipts. Illiopolis Lumber Co., Sattley's Standard Service, Rebman Chevrolet, General Telephone and Pritchett Bros. Hardware and Appliances, to name a few.
Well, I was making some progress now. I knew that the Fire District had bills to pay over the past fifty years. What else might be contained inside the old red book?
There it was . . .an item for which I was searching. Handwritten notes on an old piece of paper with many dog- eared corners. It was the first of many items for which I'd been searching.
So, here we go with some early history. "It was the best of times, it was the worst of times." Hold on, no, no, that was "A Tale of Two Cities." How about . . . "In A Galaxy Far, Far Away." No, Lucas already used that beginning.
What if we start with this one: Once Upon A Time!
Board of Trustees Illiopolis Fire Dept.
April 2, 1956
Trustees called to order by firechief, N.E. Sattley, of Illiopolis Volunteer Fire Dept. at 7:00 P.M. Present Sattley, Garren, Leonard, Stengel, and W.P. Roberts, attorney.
By lot, the terms of the trustees were determined, as follows: One Year Term - Leo E. Leonard; Two Year Term - Lynn E. Stengel; Three Year term - Jesse Garren.
The board then organized by unanimously electing officers as follows: President - Leo E. Leonard; Secretary - Lynn Stengel; Vice Pres. - Jess Garren; and Treasurer - Joe Pritchett.
And so, the IFPD began with a group of Illiopolis residents gathering and organizing themselves as the first trustees of the Fire Department. The trustees had a great amount of work to accomplish in the months to follow.
Stengel wrote "... that the Director of Public Safety be invited to consult with the board at his convenience as to equipment and procedure." On June 14, 1956, Leo Leonard was asked to discuss with Mr. Hemp, Mayor of Illiopolis, the purchasing of present fire equipment. Subsequently, on June 21,1956, "A motion was made by Garren and seconded by Stengel, to buy the town fire equipment for the sum of $266. After two months in existence, the district now owned fire equipment.
On July 3, 1956 the board voted to purchase a Chevrolet truck chassis from Rebman Chevrolet Company at a cost of $3420.72. In addition, bids were opened from four companies concerning the purchase of fire apparatus for the chassis. The district was now well on it's way to the acquisition of firefighting vehicles.
July 24, 1956
A motion was made by Stengel and passed to accept the following volunteer fire­ crew: Jake Sattley (Chief), Harold Lamb (Asst. Chief), Art Pritchett (Clerk), Joe Pritchett, Laurence Easton, Milton Ross, George Gordy,Joe Wurl, Don Turnbull, Herbert Ervin, Allen Castleman, Homer Patterson, Alvin Wilson, Leo Fishbinder, Ray Dowdell, John Blair, Vance Craig, Larry Gant, Bill Simmons, Chad Gordy, and Billy Williams.
The first District budget was also adopted during this same meeting totaling $9,000.
On October 4, 1956 the district approved the renting of a building to house the fire truck at $1,320 per year. In a meeting held on January 3, 1957 the district accepted the "Fire Hydrant and Police Agreement" with the Village of Illiopolis.
On different occasions the trustees met in other locations. On Oct 8, 1957 their meeting was held at the home of the President. Other times meetings were held at Pritchett Hardware.
During this first year of district existence the trustees started to fund the Fire Department operations by the issuing and disposing of warrants drawn against and in anticipation of taxes to be levied by the district.
On August 22, 1958 the trustees approved the execution of a promissory note in the amount of $15,627 to purchase the present firehouse property and to build a firehouse on the same.
During the period of 1959 and 1960 the district went on to purchase a portable 1000 gallon draft tank from Fol-Da-Tank Company in the amount of $100. Also during this same period, another vehicle was purchased from Graves Motor Company for $4800 with a trade-in allowance of $100 on the old 1942 vehicle.
Since 1960, the Illiopolis Fire Protection District has continued to raise funds, levy taxes, pay bills, provide guidance and purchase equipment in a relationship with the existing Fire Department today.
And by the way, there was a caretaker, better known to the district as the "custodian," who lived upstairs at the firehouse. His name was Leo Lang and was paid "labor" at a rate of $31 per month to maintain functions of daily and weekly responsibilities.
As for the boring headline of this article, lets nix that and call it "The Old Red Book." Happy Anniversary, Illiopolis Fire Protection District . . .

1956 to 2006!