Sentinel Articles by Illiopolis Students
Letter To The Editor About Frank
Letter of Thanks From Frank Bell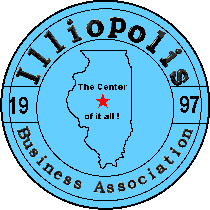 Business Man of the Year Award

Frank J. Bell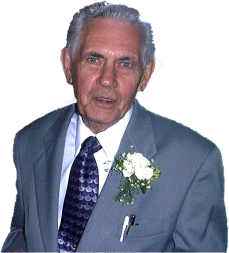 It is with great honor, that the Illiopolis Business Association awards its "Business Man of the Year" award to local Newspaper Publisher and Editor Frank J. Bell. During his 50-plus years of service to the village of Illiopolis and Central Illinois, Frank has exemplified all that is good about our community. It is appropriate that the first Business Person of the Year award of the Illiopolis Business Association should go to the one person who has had more positive influence than any other single person in the last Fifty years.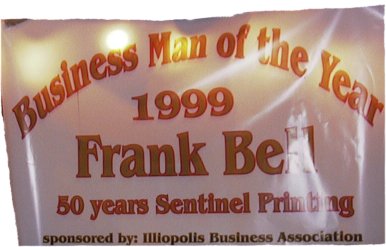 This is a photo of the special banner that the Illiopolis Business Association had made and hung in alumni tent for the special occasion.
Frank Bell Sr., 82, of Illiopolis died Tuesday, April 26, 2005, in Memorial Medical Center, Springfield.
He was born Sept. 13, 1922, in Springfield, the son of Frank and Fern DuPont Bell. He married Ina Mae Brawner on Jan. 4, 1947. She preceded him in death on Feb. 27, 1995.
Frank was the publisher and editor of the Illiopolis Sentinel and the County Line Observer from 1950 until his retirement in 1999. He was a member of the Illiopolis American Legion, 40&8 Society of Legionnaires, Veterans of Foreign Wars, Lions Club and the Illiopolis Business Association. He was named Business Man of the Year in 1999 for more than 50 years of service to the village of Illiopolis and Central Illinois. He was a U.S. Navy veteran of World War II, serving on the SS Mission Purisima T-2 tanker, which was the workhorse of the Merchant Marines during World War II.
He is survived by his sons, Frank (Bobbi) Bell of Decatur and John Bell of Illiopolis; daughters, Fern (Gene) Grohler of Springfield, Becky (John) Mack of Guthrie, Okla., and Mary (Terry) Dobson and Pam (Rusty) Adams, both of Illiopolis; numerous grandchildren and great-grandchildren; brother, Bob Bell of Chatham; sisters, Lola (Hank) Marbold of Sherman and Betty Rogers of Lenoir City, Tenn.; several nieces and nephews; several aunts and cousins; and companion, Geri Kennett.
He was preceded in death by his wife, one sister and one half brother.
Services were held Friday in Fullenwider-Park Funeral Home, Illiopolis. Visitation was Thursday evening.. Burial was in Camp Butler National Cemetery, Riverton, with military rites by the Interveterans Burial Detail of Sangamon County.
Return to Business Person of the Year