Illiopolis 2002

Business Person of the Year Award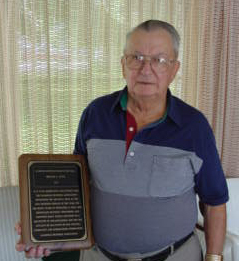 Milton Ross
The Illiopolis Business Association at their December Christmas meeting honored Milton Ross by naming him their Illiopolis Business Person of the Year 2002. Mr. Ross had been in the grocery and dry goods business with his family at Illiopolis for many years.
Milton came to Illiopolis from Wisconsin by railroad with his parents, J.C. and Lena Ross and J.C.ís brother Bob. They opened a grocery store in the former Legion Building in the early 1920ís. Bob gave it up after a short time and returned to Wisconsin and J. C. bought out his share. Milton was 9 years old and started attending Illiopolis Grade School. He graduated from Illiopolis High School in 1933. He worked for two summers as a caddy at Sunnyside and didnít start working at the grocery store until after that.
Miss Agnes Uhll had been working at the grocery store and Milton noted that she was a really fine worker and he decided right then that he had better marry her. They were wed in 1940. She worked for J. C. Ross while Milton was in the service. She opened the store, carried in the bread deliveries and was clerk. Over the years, she always helped out at the store and did some of the bookkeeping.
There was a tavern located next door to the Legion Building, which later became the dry goods store. The building next door to that housed a Cheese Factory. The owner of the cheese factory had a son and whenever five or six of the guys would go to area ball games, they would eat cheese and crackers on the way. Milton would bring the crackers and the other guy would furnish the cheese. The Rossí later purchased that building and moved their grocery store there. The Legion building then became an appliance store. It was later sold to the American Legion. The Legion met upstairs and leased the lower part of the building to the Postal Department. The Post Office had a 10-year lease for $750.00 per year.
At one time, there were five stores in Illiopolis. Once when the bakers were on strike, Milton and Russell Warner would drive to Peoria to buy bread and bakery items to bring back to Illiopolis and divide among all the other grocers.
Milton went into the U. S. Army in 1943 where he served for 2 1/2 years with the Army-Corps Artillery until 1945. The unit fought in Germany and he was eligible for several medals including a Bronze Star Distinguished Service Medal.
Miltonís late brother, Dave Ross, went to college for a couple of years after being discharged from the service. After college he also worked at the store. He was 10 years younger than Milton, but became ill several years ago and passed away. J. C. Ross retired from the grocery business in 1965 and passed away in 1968.
There was a meat locker plant located next to the grocery store and the Rossí purchased that from the Febus family. So at that time they had the dry goods store, grocery store and meat lockers. Milton and Davidís sister, Ruth Pritchett was employed at the Perma-Starch plant and also did the bookkeeping for the store.
In August of 1974, the grocery business was sold to Floyd and Judy Shade of Rushville and Milton continued to operate the dry goods store. The grocery business was then sold to Murl and Earl Stockamp who also had a JGA store in Warrensburg. They found it too difficult to operate both stores, so after three years on July 11, 1980, all the stock was sold at 1/2 price and what remained was taken to Warrensburg. They promised Milton it would be reopened in 30 days, but it wasnít until October that it was reopened as J. B. Daleís by Ed and Nancy Dale with Ken Stanberry, manager. Milton said that was the first time the store had been closed over 24 hours in over 50 years.
Milton kept the dry goods store open for some time but later closed it and donated that building to Illiopolis Township and it is now Illiopolis Township Hall and Senior Citizens Center. Nancy closed the grocery store and the building was converted to todayís Mini-Mall with several different shops.
Milton and the Ross family has been a great asset to the Illiopolis community and he served many years as treasurer and is a life member of Illiopolis American Legion Post 508. He was also treasurer and is a life member of the Masonic Lodge. He was a member of the Illiopolis Lions Club and served as a Volunteer Fireman for 20 years.
Interview and story by Frank J. Bell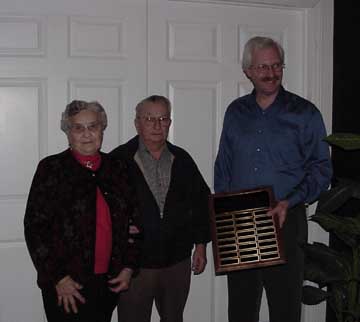 Rod Mitchell presenting the plaque to Milton and his wife, Agnes.
Return to Business Person of the Year