Illiopolis 2001

Business Person of the Year Award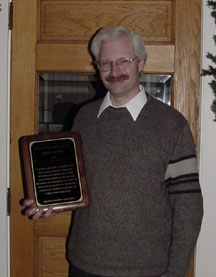 Rod Mitchell
Rod Mitchell has been named 2001 "Illiopolis Business Person of the Year" by the Illiopolis Business Association. Everyone who knows Rod has heard him ask, "What would you like me to do?" That quote tells a lot about him and why he deserves this honor.
Rod was only six-months-old when his family moved to Illiopolis. His father, Don, worked at DeKalb and his mother, Margie, was a housewife.
Rod graduated from Illiopolis High School in 1970. In 1972, he received an Associate of Science degree in Mechanical Engineering from the Morrison Institute of Technology. After graduating, he worked as a draftsman for Federal Huber in Plano for two years. During that time, he met his wife Cathy. They were married in June 1974.
He decided he wasn't happy working in an office, being closed in and away from people, so he began his search for a different career. He spent close to a year as a pizza place manager, followed by a few months as a "professional" musician, playing drums with a local band. He found his "niche" in retail when he started working at Hornsby's Family Center (like WalMart) as a salesperson. He worked in several of the northern Illinois stores as he worked his way up to the position of manager.
Early in 1980, Rod's parents purchased the local "Pritchett's" hardware store. It took several months to get the store fully stocked and ready for the grand opening in October 1980. Rod was active in the business from the start, helping his parents get everything up and running smoothly, but it wasn't until June of 1981 that he came home to manage the "family business."
He and Cathy had two young children and felt it was time to decide how and where they would raise their family. They were living in a larger, more fast-paced area and Rod's job demanded long hours, so they opted for the small-town life and packed up their family and moved to Illiopolis.
Mitchell's Hardware has always been a family business. Rod says it has held together for more than 20 years because it is a family business. They have always worked to provide what their friends and neighbors want.
Rod has managed the retail business while Don spent most of his time doing service calls. Marge helped out in the store, always making sure it was organized and clean, and Cathy helped with the bookkeeping. Tadd (24) and Trisha (almost 21) were always a part of the business, too, literally growing up in the store.
Rod bought the store when Don officially retired in September 1998. Don still helps out when he is needed. In October 2000, the whole family was together to celebrate the store's 20th anniversary.
Over the years Rod's, "What would you like me to do?" manner has benefited Illiopolis through his involvement in many local organizations. The year 2001 was his 20th year of service as an EMT, first with the ambulance, and since 1991, as chief of the fire department EMS. He serves as the backbone of the EMS, holding everything together. He says he really enjoys being able to help. He joined the fire dept. just one year after starting with the ambulance, so 2002 is his 20th anniversary as a fireman.
Rod currently serves on the Finance committee of the Visitation church. He was also on the first Tri-Parish Board, working with representatives from Buffalo and Niantic to iron out all the details necessary to establish the Tri-Parish. For nine months, he filled a vacancy on the Village Board when a member moved out of town.
He is one of the charter members of the Illiopolis Business Association. Other charter members include Nancy Dale, Deloris Rogers, Frank Bell (1999 Business Person of the Year), Patty Rogers, and Dave & Mary Shaw. In 1998, Nancy & Deloris came to him with the idea of forming a business association, and once again, he asked, "What would you like me to do?" Since then, with Rod serving as President, the Business Association has grown and has sponsored several community projects.
Rod still enjoys playing the drums when he can. Each year, he plays for the local high school musical and last school year he also played for the Buffalo high school musical. He was a member of the Illiopolis Community Band that played at football games before the football co-op was formed. More recently he has played with the Lincoln Area Musicians and has joined the Mt. Pulaski Community Band playing at the July 4th celebration, Fall Festival, and the Christmas Concert.
2001 was a full year for Rod. After careful consideration and informal polls, he made the decision to make the store "Mitchell's Hardware," dropping the Ace Hardware affiliation. The only real difference is the supplier. The store still offers quality merchandise and friendly service.
In May, his many years of caring for the Illiopolis community and his fellow EMS and Fire Dept. volunteers earned him the honor of being named "EMT-B of the Year" by the SAMIC EMS system (Springfield Area Mobile Intensive Care Emergency Medical Services). He was awarded a plaque at a dinner and awards ceremony held in observance of Emergency Services Week. After the ceremony, he got his plaque autographed by Dr. Henry Heimlich, the world-renowned physician who developed the "Heimlich maneuver."
In December, Rod was surprised to learn that the other Business Association members had secretly voted to award him the "Business Person of the Year" honor.
Speaking about his work and community involvement, he says he really enjoys everything he does. As for the future, he wants to continue working hard to make the store even better and to help make Illiopolis even better because, as he put it, he plans to grow old here.
Copied from January 10, 2002 edition of the Illiopolis Sentinel
Nancy Dale Presenting Rod With Plaque
Return to Business Person of the Year